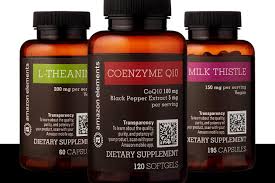 Trust Transparency Center was one of the first to follow the launch of Amazon Elements private label of Vitamins and Supplements. On March 1, 2017, seven days after the initial launch, I published a post on my Linkedin page about the topic, and it continues to be one of my most popular and engaging posts. The initial discussion detailed the innovation and potential impact of the four products constituting an Amazon private label brand being introduced.
It is somewhat comforting to know that even a company as large as Amazon stumbles a little when it tries to enter the dietary supplement field. On February 22, 2017, Amazon launched a Turmeric Root Extract product as well as a Vitamin D2 product. The Turmeric Root Extract product has survived, and marketplace feedback drove Amazon to develop a complementary Turmeric Complex product which contains Black Pepper to address some of the bioavailability concerns. The other product launched on that date, Vitamin D2, struggled and is the line's only double-digit one-star rating. Amazon chose to address the issue by adding Vitamin D3 in two strengths.
Fast forward 530 days from the initial brand launch, four SKU's is now 30 with Ten products entering the marketplace in the last week. Some key points of note for the current product line:
None of the original products included ingredients sourced from China. Nineteen of the current 30 SKU's contain ingredients sourced from China.
Amazon is committed to transparency and in some cases calls out "Product of China; blended and packaged in USA" on its packaging.
Amazon Elements takes varying approaches to address the sourcing from China question. Many of the pages for products with ingredients sourced from China include a Frequently Asked Question section on the product page addressing the issue. Some examples:
Why is your Biotin sourced from China? 
China is the leading supplier of biotin. In fact, according to data from the US Department of Commerce and the US International Trade Commission, 90% of all biotin by weight imported into the US in 2016 originated from China. We rigorously test every batch of supplements we produce for potency, purity, and integrity. Review our test results on this page or by scanning your bottle. For more information on sources of biotin, refer to the US International Trade Commission's website at www.usitc.gov.
Why are ingredients sourced from China?
Suppliers in China are required by U.S. law to meet the same safety standards as suppliers in the U.S. or any other country.
The transparency aspect of the launch was highly discussed but rarely implemented by others. Amazon seems to be doubling down on their commitment to providing more information than what is routine for the supplement industry.
Only recently has Amazon aggressively promoted its own brand. There have been no significant announcements of the brand, but it is clear the placement of sponsored Amazon Element products is becoming more prevalent. During searches for this post, sponsored ads for Amazon Elements products were repeatedly identified including sponsored ads for Melatonin, Lysine, Calcium, Vitamin C, Turmeric, B Complex and Vitamin B12. An equal number of Amazon's Choice designations were found to support the brand.
So where does that leave things? To summarize:
In 526 days, Amazon Elements' supplement offering went from four SKUs to 30 SKUs, a 750% increase.
Amazon is now promoting its own brand more aggressively.
Transparency, as it relates to quality, continues to be the primary differentiator offered by the Amazon Elements brand as none of the products seem to offer any other added value.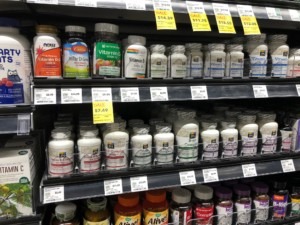 As part of the demonstrated transparency, Amazon Elements brand has identified their contract manufacturer as Arizona Nutrition. Note that Arizona Nutrition also manufactures the Whole Foods 365 line. The Whole Foods 365 line contains many SKUs so it stands to reason the Amazon Elements product pipeline possibly originates from the retail sales analysis in addition to the obvious massive data available from Amazon.com itself. Amazon Element Supplements are appearing to pick off private label products and it is likely the total launch will include at least all of the products currently manufactured for the Whole Foods 365 brand.
Another little-known event which occurred over the past weekend involves cross promotion of all vitamins and supplements carried by Whole Foods and Amazon Prime. Amazon Prime subscribers could go into the Whole Foods Market store and "reserve" their products for the week preceding the weekend sale. This two-step process for purchasing was likely an attempt to mitigate any "Build-a- Bear" fiasco which occurred only 3 weeks ago when customers overran the stores trying to take advantage of special pricing. No significant marketing for the Amazon Prime/Whole Foods 25% off program was noticeable online.
The latest and greatest deal just for Prime members: 25% off all supplements*, including favorite brands like Garden of Life, Bulletproof and more. The sale runs from 8/3-8/5/2018, but you can shop from 7/27-8/2/2018 to reserve your must-haves. It's easy—head to your local store, fill a bag, hand it to a team member and come back from 8/3-8/5 to get your supplements for 25% off. 
*Valid 8/3-8/5/18. While supplies last. No rain checks. Reservation not available in Colorado, Utah, Idaho, New Mexico, Kansas, Montana and El Paso, Texas.
Amazon Prime has been running various promotions of similar, but lesser value in various locations on a more ongoing basis.
Amazon has also placed a supplement into their deeper discounted Prime Pantry offering. One SKU, Iron 18mg 195ct, is offered at a regular price of $11.99 but has this exact same item listed as Prime Pantry at $5.96. Many conditions are attached to the Prime Pantry cart, but it is worth noting the significant discount being provided to the one SKU.
We began this series of blogs with the pronouncement that Amazon changed the supplement industry and we believe this trend will continue and deserves to be watched by all involved.
A more detailed report on the Amazon Element brand product line can be found at www.trusttransparency.com.