Trust Transparency Center has remained diligent in its coverage of the advances for the Amazon lines of dietary supplements. Amazon launched the Elements line in February 2016 with just four products and it now has 27 SKUs. The Amazon Solimo line launched in March 2018 and already has 36 SKUs. Neither of the lines provide structure function claims for any products or ingredients thus eliminating an area of regulatory concern experienced by most brands.
The Amazon Element line expresses its main product differentiator as transparency. The offering page details historically opaque items of product detail such as contract manufacturer and country of origin of ingredients as well as many other aspects of the product. Through a QR code the consumer can find lot specific analytical test data for the product purchased.
Based upon sales ranking data the Elements line is performing respectably for Amazon. The Solimo line is a more price aggressive line with no transparency. The products routinely have less benefit than the Elements line and border on deception in some items. For example, Amazon Elements Milk Thistle states the product provides 150mg per serving. The Amazon Solimo Milk Thistle offers 200mg on front label: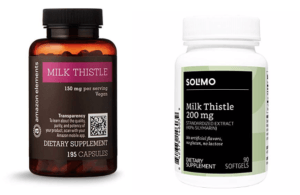 The Solimo label would seem to indicate a 30% increase of Milk Thistle over the Elements brand. In reality, each Solimo softgel contains 67% (80mg vs. 120mg) of Milk Thistle found in each Elements capsule:

This type of discrepancy routinely occurs between the two brands and is perhaps most apparent when reviewing the multivitamin products with the same label name (i.e. Women's One Daily Vitamin and Men's One Multivitamin). Another element of interest as it relates to transparency is the label phrasing "Contains 2% or less of…". On some Solimo labels this phrasing includes magnesium stearate, polysorbate 80, polyethylene glycol and other sometimes controversial items.
The pricing between the two brands is inconsistent but trends toward offering the Solimo product at a discounted price from the Elements brand. Some examples:
What is clear is that Amazon is continuing to create a formidable line of private label dietary supplements. Benefit claims are not going to be part of Amazon marketing and they are leaving that to others to provide or the consumer to discover on their own. What is not clear is how the "bare bones" marketing of Solimo will fare against the transparency initiative of the Elements brand. Trust Transparency Center will continue to analyze and track the emergence of the Amazon impact on our industry from a variety of angles.
Solimo is designed to get market share at the low/economy end of the spectrum. Solimo is offering a minimalist approach to information and benefits of their products. This opens the door for competing brands and retailers to improve upon the Solimo approach and create meaningful and valuable content for the consumer.