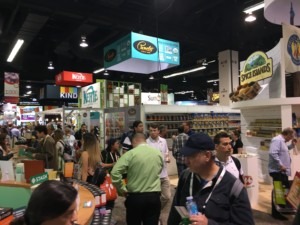 We've been celebrating Expo West 2018 since it finished 10 days ago, and what's not to celebrate. 90,000 of our closest friends, great energy, sizzling products, amazing passion and world changing works displayed over five days in Anaheim. For those in attendance, almost universally, the excitement and environment almost defies description. For those familiar with more stoic and less exciting industries, the passion and values on display provide faith in humankind and in our future. And the event continues to expand, evolve and change. The What's Hot booths moved from the Hilton to the newly opened North Hall, creating a totally new dynamic experience illustrating there's much more growth and expansion in store for the Expo West experience. And then, because this is business, a $700 million deal in the supplement sector, proving yet again that the natural products industry is at the epicenter of things healthy and just plain 'right' – and profitable.
As I think about this past Expo experience, I find myself with a confession to make. This year especially, I felt inadequate to the task at hand- said task being taking in ALL the important and arguably essential elements of the event. I started my week Wednesday morning at the CBD Summit, I went to meetings and presentations Thursday, Friday and Saturday, I tried to be active in my identified communities and groups as much as possible, I tried to get to all halls to understand market opportunities and dynamics across multiple categories, I hopped off the campus twice for meetings and events – and I just plain ran out of time. By Sunday afternoon I was resigned to the inadequacy of my planning and the magnitude of my aspirations. Not to be too tough on myself, I think this is the new normal. It's almost impossible to do it all, much less do it all well.
More changes are in store for next year. The dynamics of moving from hall to hall (and hall to sessions) will evolve. Engredea as a destination will be gone. But, as they say, "change is a constant". Adapt accordingly, and so we shall. At one point 10 days ago, several of us got to talking about Expos gone by. And for me, as I now reflect on almost 20 years at Expo West, I can't help thinking a bit nostalgically to….
When the event really began on Friday
When there were almost no ingredient companies on the floor
When it was Supply@Expo and then SupplyExpo
Before there was Nutracon (what was Nutracon you say?)
Before there was a Hall of Legends
Before CBD, bone broth and kombucha
Before $20 million deals were an almost daily occurrence
When Whole Foods was the only path to product uptake and legitimacy….
When the sports products companies introduced early stage protein bars and beverages
When ephedra was still legal
When 'beyond meat' truly meant consistency of rubber and taste of cardboard
When Clorox, Nestle, P & G, Reckitt and their ilk were the big, other guys we thought we'd never find ourselves in the same room with
When omnichannel meant 'how were you going to go mass and natural at the same time?'
When FDA would only go undercover at the show
When a few guys in kilts used to pour out great single malt at a Friday evening event, and a resident poet laureate performed
When a close Expo hotel meant a 10-15 minute walk
When presentations about the China market drew 20 instead of 220 people
When Tony Robbins was a supplement industry executive
When DSEA was better known than DSHEA
When New Hope and Virgo competed aggressively and passionately
When the Internet was not even an afterthought let alone a vibrant sales channel
When finding a quiet corner to chat at Expo meant going up a floor instead of across a county line
Those were different days. And I know there are those with far more Expos passed than me.
Maybe some of you want to share some of your own Expo 'remember when's'?
~Len