Trust Transparency Center is participating in New Hope Network's Inside the Bottle program for the second year in a row for a reason.
The Inside the Bottle initiative unites companies from across the supplement supply chain to advocate for a transparent industry and empower consumers to take control of their health. The program's objectives include:
Develop consistent, cohesive messaging
Support quality and transparency
Cultivate trust in supplements
We at Trust Transparency Center are proud to support this initiative because it celebrates what is best about this industry and creates a positive impression of the dietary supplement industry. During Expo West, I had the opportunity to participate in the Inside the Bottle education session and discuss cohesive and collaborative messaging throughout the supply chain. This was a dream because it brought my passion for this industry and expertise in communications together.
To tell a story effectively in our space, you must collaborate with your entire supply chain clearly and consistently. What that means is engaging in regular dialogue with partners, meeting, sharing information and taking a deep dive into how they operate and then using that information to shape your narrative. To help shape the Inside the Bottle narrative, the NEXT team ran a TURF analysis  (TURF is the acronym for "Total Unduplicated Reach and Frequency" which is a useful analysis for estimating which message(s) will resonate with the greatest number of stakeholders) to identify the combination of themes which maximized unduplicated reach and found that when messaging is focused on empowerment, convenience and proactivity, there is an 87% reach. That messaging cannot be succinctly and appropriately delivered without complete supply chain participation and engagement.
What does that really mean in our marketplace? Take a look at a 'simplified' supply chain below. Depending on what the business is, a company's supply chain could be double, triple or quadruple what's shown, but regardless of the size, there are many ways that messaging to become distorted and fundamental inconsistencies appear if there's not collaboration and transparency.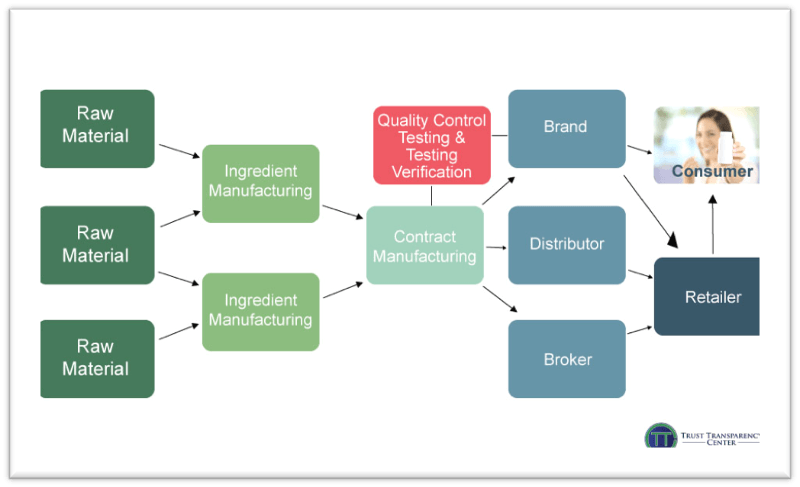 If you're a brand, you need to trace your supply chain all the way back to the grower to shape your narrative—find out what their story is, their challenge, their solution, what makes their growing process special, etc. Talk to your contract manufacturer to understand what their sourcing practices and quality controls are and especially audit them yourself. We write about that a lot—take a look at this recent post Trust Transparency Managing Partner Scott Steinford.
Gaia's Meet Your Herbs program does a good job of shaping their narrative using collaboration throughout their entire supply chain. Consumers can search by herb ID to find out country of origin, lot specific information, tracking and more.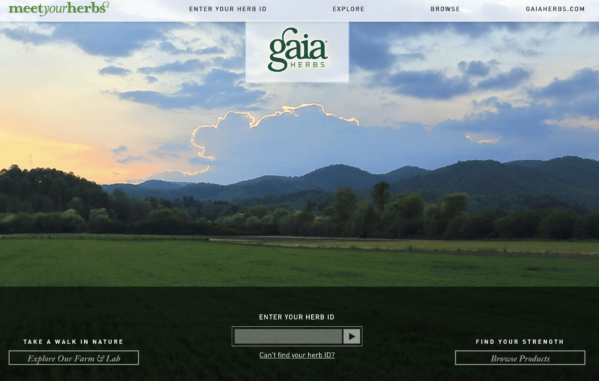 Amazon Elements was one of the first to call out country of origin and enable QR code scanning to learn about ingredients, testing and manufacturing processes.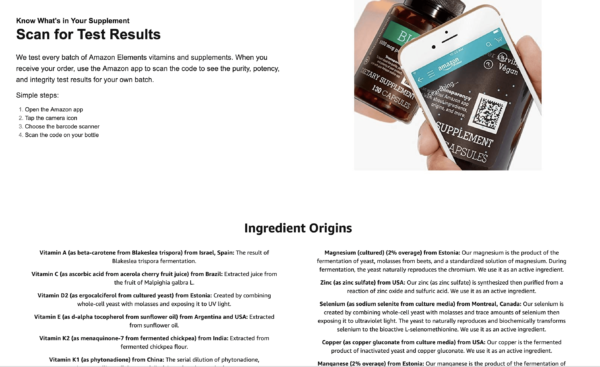 Natural Factors calls out their story on their homepage and discusses how they choose and grow their raw materials.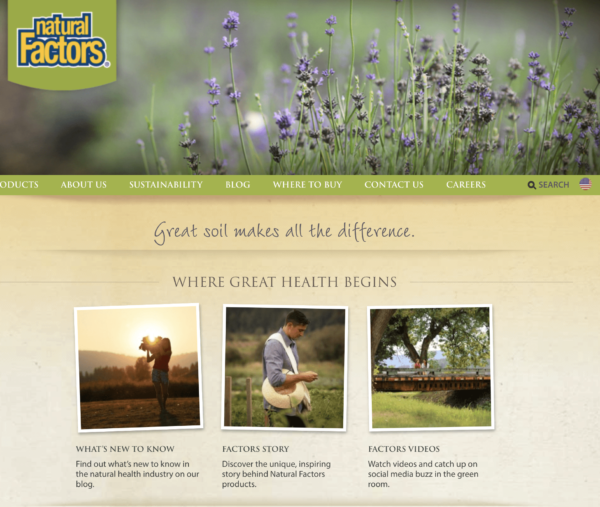 On the manufacturing side, Sabinsa is one to watch for regularly delivering transparency and collaborating throughout its supply chain. They were the recipient of New Hope Network's Supply Chain Transparency Award for creating a vertically integrated system—beginning with its farmers in India—to control the quality of its turmeric, Coleus forskohlii, black pepper and other ingredients.
Brands and organizations that communicate clearly and cohesively are winning. The bottom line? Nourish your narrative and your organization will grow.
~Traci