A few weeks ago I had the opportunity to attend and participate at Health ingredients Europe, (HIE) in Frankfurt, an event put on by UBM. In Europe, this event alternates with the much larger Food Ingredients Europe every other year, an evolution as many on the 'food' side did not want to engage in an annual event. For those focusing on the healthy side of food, HIE has always been a decent event, an easy walk-around show, some big stands but mostly 3m x 3m shells with always a few interesting takeaways.  The pace of the event is also such that it's relatively easy to get time with your contacts – and there are 3 full days to work with.
Over the years, Vitafoods in Geneva in May has become the go to health ingredients show in Europe. Vitafoods is still primarily supplements, whereas HIE engages the food community from across Europe, at least from a supplier standpoint. This year in Frankfurt, the show had good energy and while there were pockets of limited activity, especially late afternoons, it was evident that people had stuff to talk about and the mornings and early afternoon were quite brisk.
While it does appear that the event is in slight decline, there is no question that deals were done. There was a decent North American exhibitor contingent, although quite frankly, the energy was at the European booths. Show floor education was well attended, both the premium (paid) and the bonus center floor content. My own presentation on The Supply Chain Transparency Imperative had around 40 attendees.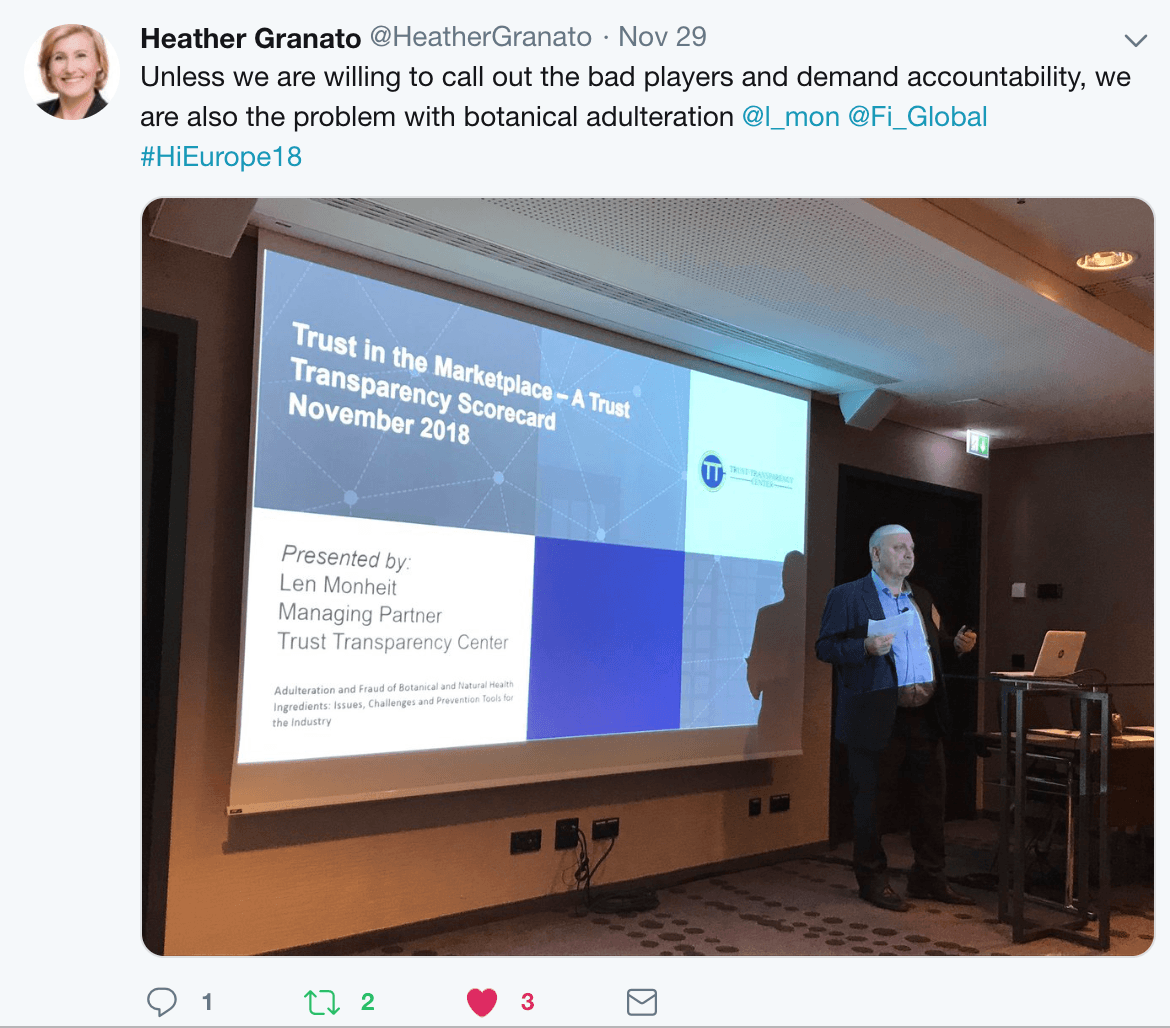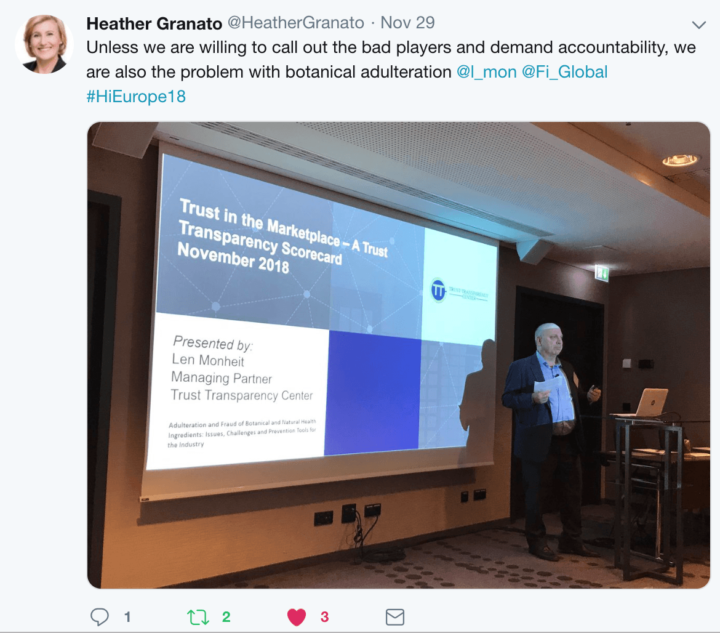 Thinking about dominant themes on floor and in content messaging, we saw the usual suspects of transparency and sustainability, along with clean label. Keeping in mind that this (HIE) is still at its core a food ingredient event, the ingredient messaging is dominated with functional language rather than health language. This was evident in positioning around protein and collagen, where messaging is around protein source rather than benefit language. Although there are parallels in the huge potential in both of these ingredient sets, an example of the EU environment being on the 'light' side or maybe even better described as version 1.0 and not completely explosive like the US is the entire plant-based movement.
The show floor had its representation in two of our core categories, with curcumin products displayed by many, and the HMO side of prebiotics well represented. GPA's Kara Landau gave a great 'prebiotics products in the market overview' in the content sessions, and for those interested in the category, acacia had a presence on the floor although many of the traditional companies are talking fiber rather than prebiotics.
UBM has combined the event into a bigger Nutrition Week program with workshop content on many topics around and outside the halls. I had the opportunity to participate in such a session hosted by Euromed on botanical adulteration. My presentation was entitled 'Trust in the Marketplace', attempting to understand the implications should the botanicals category, or industry as a whole, ultimately lose any measure of consumer trust, in this more transparent age. The risks are large, the costs are huge, and my chief take-away from the presentations I attended was that product quality and adulteration are global issues, and while we can and do smugly say that the culprits are 'not in the room', that doesn't mean it's not the problem of those in the room to do more – much, much more than they are currently doing to self-enforce against those that willfully or ignorantly don't do the right things. When 50 percent of products tested in a category don't meet label claim, and many are adulterated, that's a problem and it's our collective problem and it must be addressed.
As the Informa universe continues to evolve, it will be very interesting to see what the fate of HIE is – for now they've announced that it will be held again in 2020.
That's it for now. I guess we'll see you at Expo!