This past week I had the opportunity to attend, for the second time in a few years, the latest installment of the PLMA (Private Label Manufacturers Association) annual tradeshow and conference in Chicago. This piece is not intended to be a detailed event recap or traditional analysis of the floor trends. For that, I'll reference an excellent event overview prepared by Virginia Lee, posted here on LinkedIn. Instead, my intention is to take a macro view from a natural products industry perspective, and attempt to connect two very disparate universes – private label and the natural products industry values and mindset.
First of all, I was exceedingly grateful for the opportunity to attend and participate in the PLMA event. We often forget, those of us veterans of the fast-moving natural products space, that frequently, at Natural Products Expo West, we preach to the choir; of the seventy-five odd thousands folks there, many have done an expo, or two, or ten. We take the pace of Expo for granted, we take our involvement and understanding of the important issues in our industry for granted too, and make the gross assumption that other equally engaged essential industries parallel our own.
That's certainly not always the case.
The PLMA event mostly fills the trade show space at the Donald E. Stephens Convention Center in Rosemont, near O'Hare airport. What ensues, is a vibrant 3-day community event featuring foods, beverages, health products, and a mix of other categories of household and kitchen goods, all intended to fill that retail gap when the brands don't supply, or, maybe more excitingly, where category movement is so significant that even retail has to take notice and try to convert momentum and trend into its own store brand.
For those of us with an Expo or two under our belt, we're used to the trend-spotting conversations and where the new money is going. We know how to spot new companies and categories, and to listen to a group of pundits who have watched a few niches explode – in the natural products universe.
When I first attended PLMA a few years ago, it was like stepping into a whole new world. I had never heard of any of the exhibitors, although had a general understanding of how that world and the private label service providers worked. I easily noticed the expertise, the capabilities in product development and reverse engineering – but coming from a natural environment, this was often process chemistry at its best…. or worst. What I immediately noticed was the primary filter set difference, that is, at PLMA, process, production and chemistry/formulation were critical. At Natural Products Expo, market, opportunity and value proposition were at the forefront. This filter difference led obviously to unique event propositions and trying to fit the two together in any universe was difficult.
In the two years since I've been to the event, significant progress has been made that makes this alignment a little closer, although we are still talking totally different universes. The terms 'health', 'wellness' and 'nutrition' are now much more apparent in PLMA aisles – it's just what they mean that is different. Wellness propositions are frequently listed as: gluten-free, vegan, kosher and halal. Organic and allergen-free products are now much more prominent. A special note on gluten-free – it seems a crucial tipping point in that offering has been reached, certainly as measured by aisle space, and now the private label universe recognizes that is a fact, not a fad, and that a robust offering and set of technical solutions and alternatives are a good investment.
In addition to gluten-free, other values in general rather than health terms are now getting play in comparison with a couple years ago. Non-GMO sources are recognized, and with vegan and vegetarian interests represented, we see the entry of novel protein sources, and companies with declared expertise in sourcing and working with them – these were absent a few years ago. As mentioned, kosher and halal capabilities are being flaunted.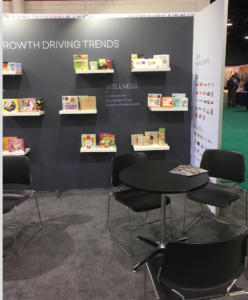 At Natural Products Expo, snacking and innovative beverages are where you see movement and emerging products and formats. The same was true at PLMA where we see crackers, chips, novel even sprouted grains and jerky's. In early stages at PLMA we now see kombucha, cold brew coffee, teas and bone broths, all showing that the PLMA environment lags at least a few years behind our natural products community, but at least it's not totally disconnected. On the wellness side, there really wasn't too much to see, it was more identification (i.e. protein, fats, organic etc.), with one advertised capability for probiotics.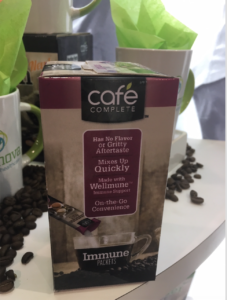 On the food ingredient side, I did see representation from a few companies – including Symrise, ADM and Cargill, yet with all the ingredient 'solutions' other ingredient leaders offer, I would have expected to see at least another eight to ten ingredient companies featured.
Turning to the supplements environment, there were a number of manufacturers claiming some nutritional product expertise, mostly in beverage bar, stick pack, chew, gummy or candy delivery formats. This number was about the same as in previous years. Awareness of the functional product opportunities was I think higher, but significantly, only one or two companies focused solely on functional and nutritional product development or formulation were on display – and they were in bars. I did see a couple companies expressing expertise in beverages and gels, so there are obviously functional opportunities there. I would think that in a general sense, this perhaps is a market gap ready to be filled, in addition to the obvious gap of high growth ingredient category representatives, branded or commodity. The expertise needed to work with some of the healthy and functional ingredients can be significant. It would seem that the chance to get in front of retailers and brands walking the PLMA floor would be another educational and market development opportunity for ingredient categories or at least private label supplement companies.
All in all, from a sourcing and trend examination experience, this event was hugely valuable. It was especially informative in being able to see the evolution over the past few years. While PLMA is likely not for everyone, a visit every few years to validate that trends are making their way into private label is warranted. And certainly, it would be good to continue to see more presence for healthy and nutritional options.
~Len Monheit, Managing Partner, Trust Transparency Consulting