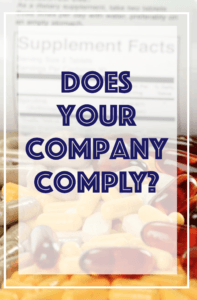 Continuing our plan to detail the regulatory and fundamental quality responsibilities that all brand manufacturers (especially online-only brands) need to embrace, this piece offers a short discussion about another responsibility/accountability gap that often exists in an industry with an opaque supply chain and the use of third party contract manufacturing services.
Introduction:
As we consider third party contract manufacturing, it's not surprising that we find a variety of offers, varying sometimes an order of magnitude or more in price. In this case, with potential suppliers running a complete spectrum from pharmaceutical quality to garage operations, and offering minimums from a dozen bottles to hundreds of thousands of tablets, the scope of offerings and capabilities is diverse. While some manufacturers have the scale and experience to efficiently factor in compliance costs such as equipment cleaning operations for messy, sticky ingredients and other quality assurance implications, others will take shortcuts.  It is quite clear though, and supported by FDA actions, that the brand-holder has ultimate responsibility for the choice of and performance of third party manufacturers.
Issue:
Price is too often the single determinant of contract manufacturer selection. cGMP regulations require the brand to be responsible and knowledgeable of all aspects of the manufacturing process and the controls in place. Written procedures and physical inspection are the only manner of assuring this requirement is met. The adage that you can't outsource responsibility is fundamentally true in this case.
Relevance:
The contracting company has the obligation as stated by the FDA "to know what and how manufacturing activities are performed so that the <they> can make decisions related to whether the packaged and labeled product conforms to its established specifications and whether to approve and release the product for distribution." From last week's piece, we know that dietary supplement regulations require that companies have SOPs in place covering lab operations, manufacturing operations, packaging and labeling operations, recalls, quarantine and other operations. Dietary supplement companies are also required to have on staff personnel knowledgeable in the operations and responsibility under their control (by education, training, or experience). These aspects of the GMPs are fundamental in applying the right level of direction and control to contract manufacturers.
A physical audit, by your organization directly, or by another contracted, capable party, while not specifically mandated, is the best and most practical way to inspect and ensure your contract manufacturer is compliant with GMPs. There are resources available to develop an audit checklist, (Here's a good reference document from the USP Quality Systems GMP Audited Verification Program) and special attention should be given to documentation, batch records, testing, storage and handling (material process flows and quarantine). Regular audits are suggested, supported by SOPs regarding the process. Where possible, it is advisable to select contract manufacturers that have third party GMP certification from bodies such as NPA (Natural Products Association), NSF or UL and making this status a criterion for manufacturer selection is often a directive. As the brand holder, you are responsible for release of products, and so attention should be paid to testing performed by your contract manufacturer as well as any third party labs used. The contract you develop with your manufacturer should be specific and cover product specifications and release criteria directly.
Relevance:
FDA has made it abundantly clear that the brand holder must take responsibility for products on shelf even if manufactured by a third party:
Example:
https://www.fda.gov/ICECI/EnforcementActions/WarningLetters/2017/ucm592683.htm
Specifically:
"Although your firm may contract out certain dietary supplement manufacturing operations, it cannot by the same token, contract out its ultimate responsibility to ensure that the dietary supplement it places into commerce (or causes to be placed into commerce) is not adulterated for failure to comply with dietary supplement CGMP requirements…"
What you can do:
Inspect/audit contract manufacturing operations on a regular basis
Develop a requirements SOP, audit checklist and performance criteria for contract operations
Where possible, choose a contract manufacturer who is GMP certified by NSF, Underwriter's Lab, or Natural Products Association (NPA)
Ensure someone in your organization (or a contractor) is trained and is thoroughly versed in 21 CFR 111 especially in auditing contract operations
Additional Reference:
While European in nature, this document produced by Food Supplements Europe is good in its scope of covering sub-contracted relationships, Chapter 15 : http://www.foodsupplementseurope.org/sites/0023/uploads/content/publications/good-manufacturing-practice-for-manufacturers-of-food-supplements.pdf?1407341246