TTC Tries It: Trubrain Edition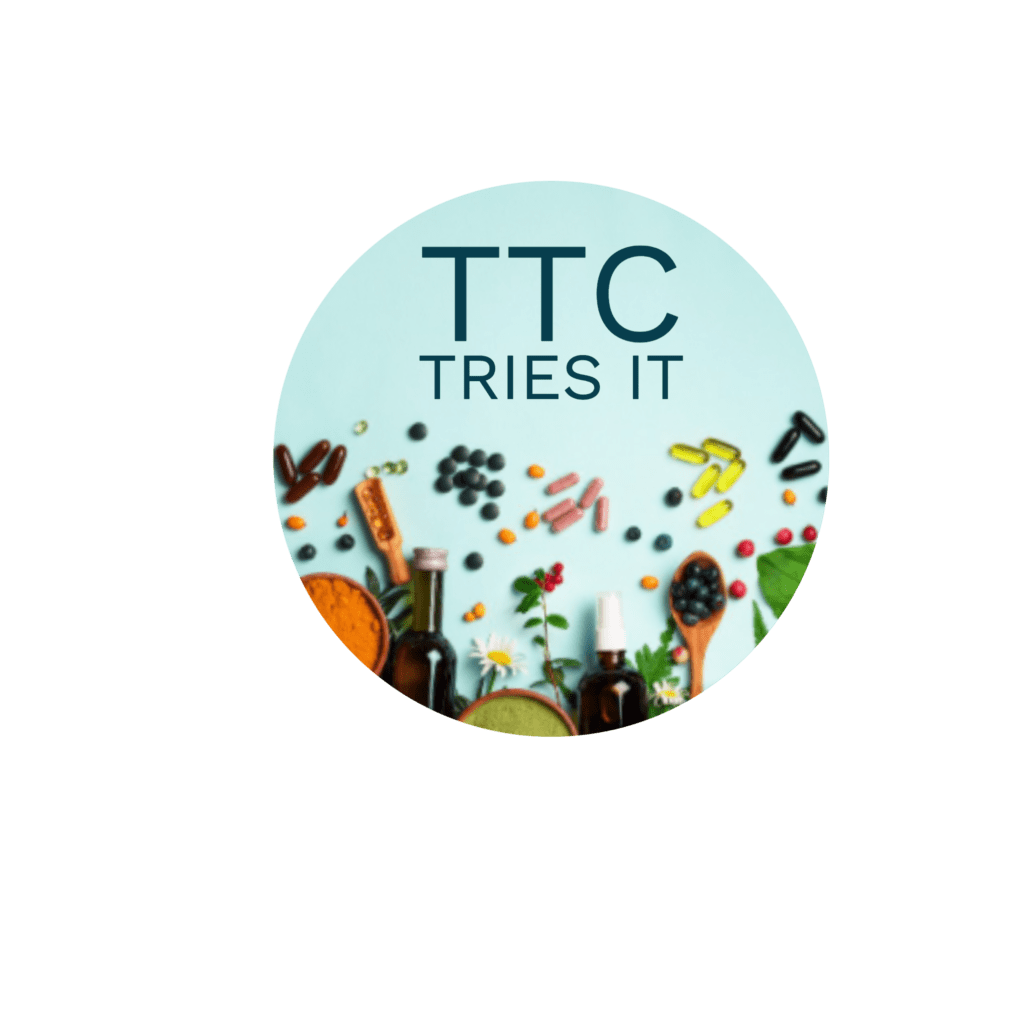 Welcome to the inaugural edition of TTC Tries It! We at TTC, understand the Natural Products industry and the importance of trust and transparency throughout it.
According to ITC's "US Supplement Buying Habits" the global supplement market is valued at $132 billion in 2020 alone and estimated to grow at 8% annually. But out of all the thousands of products being promoted in this industry, how do you know what works? Our team at Trust Transparency Center decided to launch TTC Tries It. You are getting practical, unadulterated points of view from the eyes of those that have insight into the industry, but may not be able to explain the difference between Cat's Claw and Lion's Mane. We are here to try the products so you don't have too, so let's try it!
The emerging nootropic market has been taking over store shelves, but we as consumers have had limited exposure to them. For the first TTC Tries It we decided to start with up-and-coming neuroscience company, Trubrain. Trubrain's claim is "Brain food designed by UCLA-trained neuroscientists to help you create faster, impact more, and grab more life." – they've made traction leveraging consumer interest in nooptropics. For our purposes, nootropics are foods, beverages and dietary supplements that are specifically formulated and targeted at cognitive enhancement including memory, focus, creativity and overall cognitive capability and energy. 
Our core values at TTC are in our name, trust and transparency. When reviewing a new product we want to know who the CM is, is the contact info easy to find and how believable the claims are. We immediately looked for the contract manufacturer and while we couldn't find it listed on their website we did find that Trubrain is manufactured in a FDA-certified facility and uses Current Good Manufacturing Practices (CGMPs). Trubrain also has contact info clearly shown on the website, so we could infer that they are willing and able to take any questions.
They have tons of products on their website, but we decided to stick to their "personalized drinks." While they are labeled as personalized, the personalization is just related to choosing which combo of their standard formulations you want to take. We choose to divide and conquer.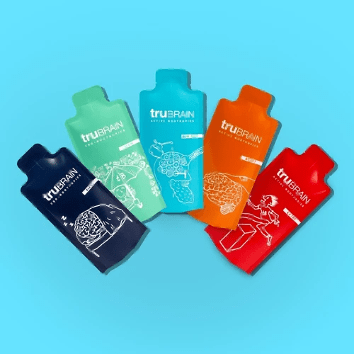 Zoe's Take

Extra Strong 
Background:
I love all things nootropics-anything that helps me focus, increase cognitive function and stay in the zone is a win for me. Enter Trubrain. As someone that already drinks threes coffees a day, I thought it would be best to try out their Extra Strong drink. The Extra Strong drinks contain Noopept, Adrafinil, L-theanine and their strongest Trubrain nootropics formula. I drank one Extra Strong every morning along with my normal morning coffee for one full week. At first, I didn't notice much of a difference. Did I have the dramatic increase in attention as the website describes? Not so much, but by the third day I was feeling the jolt described by other reviewers on the site. 
Packaging/Delivery Format: ★★★★★ Sustainable, cute and easy to use!
Taste: ★★☆☆☆ I have to say this is my least favorite part of the drink. Tastes like a jolly rancher (if that's your thing, this is for you).
Effectiveness: I really enjoyed the Extra. I felt focused and ready to take on the day. 
Would you recommend it? Overall, I would recommend this product to people trying to boost their cognitive brain function and would keep a routine of taking every day to maximize benefits.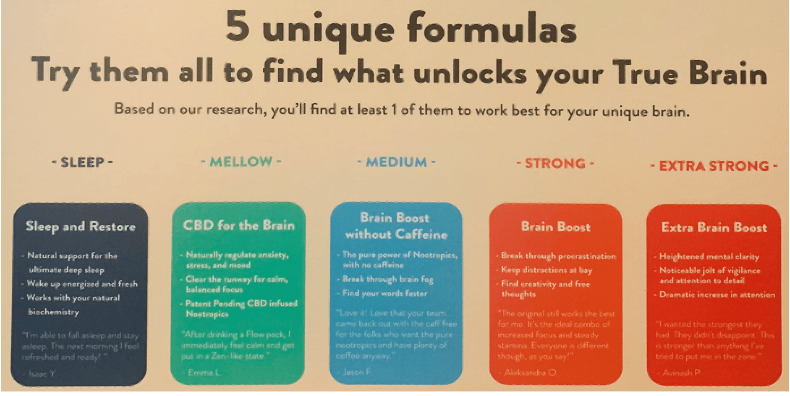 Pam's Take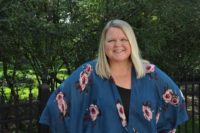 Medium
Background: I have noticed my mental focus decline and brain fog increase after having my daughter. I took this formula for 5 days and did feel an improvement in my concentration and recall after using it for four days straight. 
Packaging/Delivery Format: ★★★★★ The individual packaging size is great for on the go. I can just throw them in my purse and drink when needed throughout the day.  Eco-friendly is a plus as well.
Taste: ★★★★☆ I really like the fruity taste, but it is a bit sweet for my taste.  
Effectiveness: Mildly effective, probably good for someone who is more sensitive to traditional caffeine, like soda and coffee.
Would you recommend it? Not my favorite, but since the drinks are personalized I think this would be a good option for someone who wants to try nootropics without the caffeine content.  
Strong
Background: I am in accounting and look at spreadsheets and numbers all day.  After taking the Strong formula for 5 days, I can tell that my focus and attention to detail has increased. Working from home in itself comes with lots of distractions, and this product has helped me push those distractions away and focus on the task at hand. My overall work output has also increased. 
Taste: ★★★★☆ this has the same flavor profile as the Medium drink
Effectiveness: Yes it was effective, I liked the extra kick versus the medium.   
Would you recommend it? Yes, I would recommend it as it helped with focus and clarity. It would be great to take before a meeting or event where full attention is needed
Caiti's Take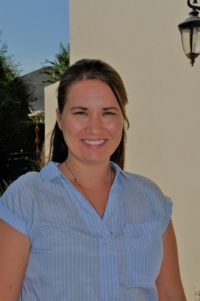 Mellow
Background: I suffer from anxiety; mostly when I encounter stressful situations, when I worry, when I'm forced out of my comfort zone…. which let's face it – was most of 2020 for a lot of people. According to the National Institute of Mental Health, an estimated 19.1% of U.S. adults had an anxiety disorder in the past year.
 Anxiety is definitely a spectrum, so I thought I would try this product to see what kind of relief someone with mild symptoms could get. 
Packaging/Delivery Format: ★★★★☆ Cute icons and names, easy to handle and could throw it in my bag or pocket, but I would be careful since it is full of liquid and the pouch could bust. 
Taste:★★★★☆ kind of candy sweet but still good, I just don't have much of a sweet tooth.
Effectiveness: I do feel more relaxed, definitely more calm and less stressed.
Would you recommend it? This would be good for someone who might get slight anxiety in certain situations, i.e. uncomfortable in crowds or slightly nervous about flying. It takes the edge off and I would personally purchase again. 
Sleep
Background: Not only am I a night owl that has difficulty going to sleep, but I also have a hard time staying asleep. Restlessness on top of two young kids usually make me wake up 3-4 times a night and then can make it difficult to go back to sleep.
Packaging/Delivery Format: ★★★★★ Love the picture of the brain sleeping, because that's what I have a problem with… shutting my brain off. Limiting to just 1oz of liquid was also considerate before bed.
Taste: ★★★☆☆ Not as good as Mellow, you can definitely taste the vitamin/ nootropic taste.
Effectiveness: I would say that it definitely made me sleepy, kicked in about 15/20 minutes after drinking it. I still woke up a few times but I felt like it was easier to get back to sleep. 
Would you recommend it? This is probably better for someone who has a little trouble falling asleep, but if you are suffering from more severe sleep issues, I would pass. I feel like the price is slightly steep, $79 for a pack of 30, but they do have a prepayment discount which could be worth it if the product works for you.
TTC Tries It Key Takeaways: If you are interested in trying nootropics, we think this would be a perfect place to start. You can mix and match different drinks to personalize your experience, which would be a good option for someone new and wanting to learn more about this brain boosting supplement. Our faves were the Mellow and the Strong. Once you find the one you like, we would also recommend that you try to commit to at least two weeks to really see if this works for you.
*Disclaimer: Opinions are our own, this is not an ad or paid for by Trubrain. 
To learn more about Trust Transparency Center and our ITC insights, follow us on LinkedIn or learn more here: https://trusttransparency.com/.
For inquiries or input on what we try next, please email caiti@trusttransparency.com.