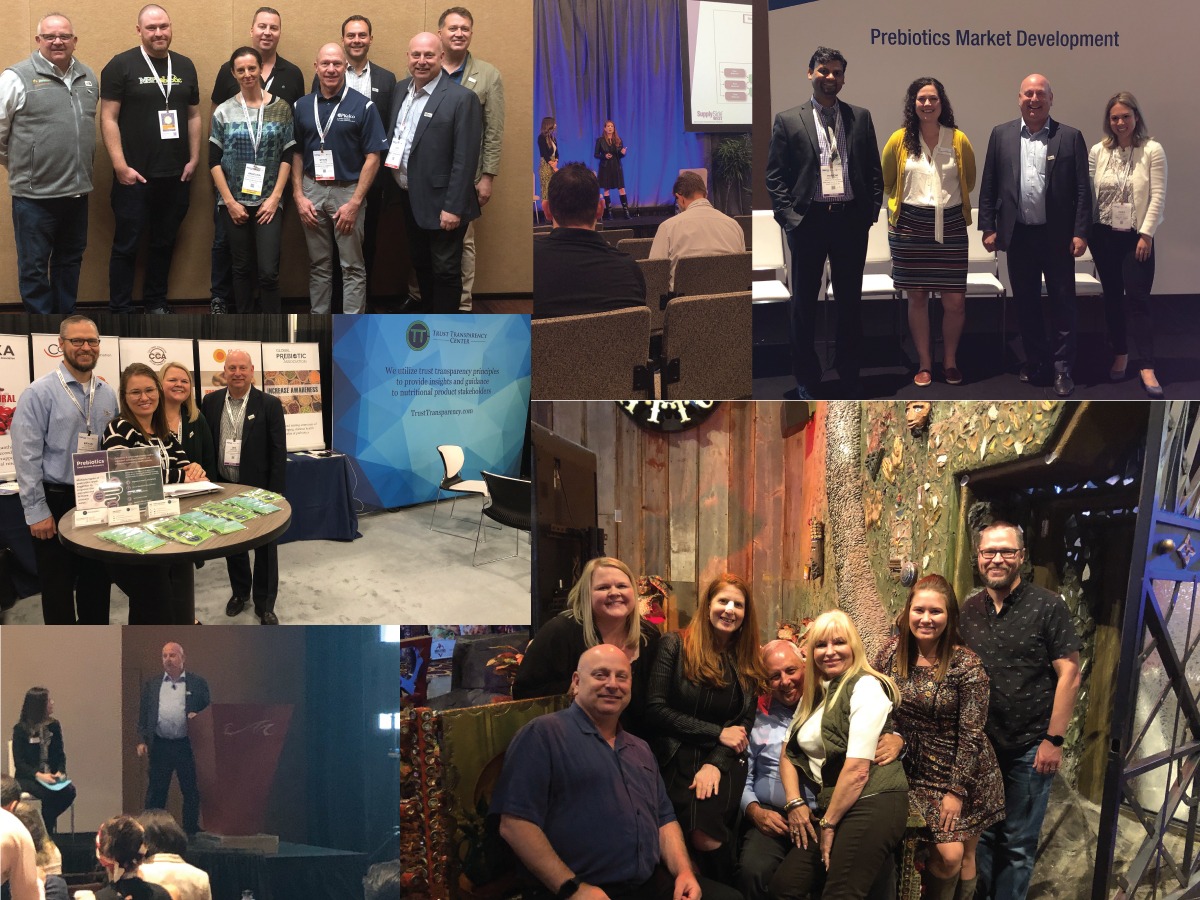 Another SupplySide West is in the books, and I'm left feeling pretty inadequate in how I covered the show. Sure, I had a productive week, filled with meetings, presentations, events and tradeshow floor, but there was so much else that I wanted to do. Disclaimer – with the exception of the Prebiotic Workshop and a couple isolated presentations, I was unable to take in much education or 'issues' presentations in a year where it seems that some real world concerns like sustainability in packaging and social justice finally hit the SupplySide event.
SupplySide West as a two day show has been a challenge for a few years now. There just isn't enough time to take in the meetings at our booth, the fixed meetings at others' booths, and still wander the show floor to track what's new and interesting. Combine that with issues-related presentations on topics such as biosyn and DSHEA 2.0, pre-show meetings to advance deals, memberships and relationships and you really have an intense few days. Gone too are the days when I could fly in the afternoon of the day before the show and fly out on the red-eye, although many of my braver colleagues did just that. SSW now begins for many on Tuesday and runs till Saturday afternoon, matching the time commitment needed for a good dose of Natural Products Expo West. Several execs I know are so jammed, they barely reached the show floor. Oh, the challenges of growth and a booming industry….
This (and any) musing piece certainly wouldn't be complete without acknowledging that at this SupplySide West, it was very apparent that much of the show was 'not my traditional SupplySide'. I refer not only to the number of new faces literally everywhere, but also to the prevalence of the CBD community in all aspects of the show, from packed rooms on CBD subjects, but also with these new faces deeply in the CBD market participating in general sessions as well (plus the numerous CBD only related offerings on the show floor). When you combine this with audience with the numerous new CPG brands and faces in the audience, there were times when I actually did not see a single familiar face.
Overall though, connecting with colleagues and friends of over 20 years in some cases, is one of the SupplySide highlights. It's truly become tougher to all gather and this year, the real gathering didn't occur for most until Friday night. Related, things last week were too jammed for me to even take in Ivan Wasserman's Probiotic Comedy routine on Center Stage, now a must-see part off the SSW week.
The 20-plus year old New Hope advertising and exhibiting standards program is now being applied to the SupplySide show floor. It's an extremely difficult task, since there is very little case law around ingredients, and advertising violations that have been called out and enforced by regulatory authorities. It has long been held that ingredient suppliers and their literature can go that extra mile in claims since the ingredient companies do need to educate their brand customers and have in fact done the real research – sometimes on not quite so healthy populations and frequently based on markers more traditionally associated with disease. Kudos to the standards team, and what must frequently be exasperating conversations, especially with international visitors (I know from my experience with Market Quickstart and other international venues that explaining the US regulatory environment around claims can be extremely challenging). Back to the CBD players, while some know DHEA and the supplements (or food) space, many are clearly in it for a quick buck, or think they are riding the coattails of an unregulated industry. At this show, there were several serious expressed concerns that scrutiny of CBD companies and products may not have completely eliminated egregious claims violations on the floor, and there is an unconfirmed report that FDA officials raided the show floor to seize illegal product from a Chinese supplier. I don't envy the ad standards policing task… Truly reminds me of whack-a-mole…for every one you beat down, three more raise their heads.
On a personal note, several initiatives that we here at TTC were involved with were event highlights. Our second annual Prebiotic workshop and the momentum of the Global Prebiotic Association in becoming the champion and voice of that emerging category certainly ranks up there. Additionally, we were involved in the soft launch of a new program very aligned with our mission and values. The 'Integrity in Supplements' initiative, modeled after the Climate Collaborative approach, where companies make commitments against key objectives with significant impact on that particular issue, was introduced. We have long held that while there are great best practices in the dietary supplement marketplace, there are too many opaque and more importantly, vulnerable areas where companies can mask poor practice. Identifying how these areas can be optimally approached, from supply chain and vendor management to sustainability is critical, and the Integrity in Supplements plan is developing a mechanism for companies to commit to an aggressive journey against these vulnerable operational areas, and TTC is proud to be a part of it.
On the subject of the Climate Collaborative, this program's strong presence at SupplySide represents an intersection of worlds. More at home at Natural Products Expos, it's great to now see companies across the supplement aisles all the way back into the ingredients supply market recognize the importance of climate related issues and the opportunities to align with consumers, and support brands doing the right thing.
Continuing in discussion this sector's values, while our gender balance in the ingredients part of the supply chain is still not representative, it's great to see increasing presence of women in leadership roles and inspiring to see several all female panels. In addition, initiatives like JEDI collaborative and an overall shift in attitude by the industry is bringing much needed diversity across the board.
The business environment at SupplySide, as always, was vibrant, dynamic, and international. The presence of the Fi/Hi food event brand certainly brought more of the global food and beverage community around to the show, and it will be interesting in upcoming years to see how this population and its activities impacts on the absolutely necessary concentration of dietary supplement focus that the event provides. Hopefully, the sequestering and reduction that has occurred in recent years at Expo does not occur at this event as well.
In my SSW musings last year, I concluded by calling for transparency and education. I'm heartened to see progress made in just a year and will continue to champion these areas. We also need to come together to figure out CBD or we are putting our entire $40 billion dollar industry at risk and there's a lot out there beyond CBD.
Finally, we've always been a global industry, but international is becoming more relevant every day. On that note, up next for me is Fi Europe.
'Til then.
~Len