An article appearing in NutraIngredients-USA last week unveiled the tip of a looming iceberg that we here at Trust Transparency Center (TTC) have been talking about for the last two years. The article covered the emerging retail marketplace and the fact that many new industry entrepreneurs are only using the online channel as a path to market, their brands never seeing the inside of a natural health food store—nor do they have brick and mortar as a goal. This easy, no barriers route to market is certainly boosting category sales, as the article points out, and is very difficult to quantify, so guesses abound for supplements and other CPG sales.
Here at TTC, we've been describing the online environment in general, and Amazon supplement phenomenon specifically where over 16,000 supplement brands representing over 150,000 SKUs are listed. While several of these novel brands represent innovation and well developed and substantiated products, many of these Amazon entrepreneurs know little to nothing about the dietary supplement market, some apparently thinking it's no different from selling widgets. We in the industry know that not to be true, hence this ignorance represents a significant category risk.
The NutraIngredients-USA article notes that there has been no tidal wave of snake-oil salespersons, which is true – to an extent. With few to any barriers to entry in this free-wheeling environment, and pricing varying 10x for apparently similar products, the incentive to cut corners is certainly there, and work by TTC and the single ingredient associations we operate would seem to indicate one third to one half of products tested are not meeting label claim. So, one could argue that through willful behavior or ignorance, corners are being cut, a seriously disconcerting finding, since the contract manufacturers making these products should and do know better. In the new normal, not only do the traditional retail gatekeepers never see these products, the brand-holders themselves, accountable by law, often never take physical possession of these goods and never see them. While a few acknowledge the issue and took steps to remedy the situation, the majority of TTC and single ingredient trade association dialogue with these brands varies from the 'chastised' to the absurd. One brand-holder declared that they would simply cut the label claim in half and therefore be compliant.
The NutraIngredients-USA article points out that these online companies don't engage with the industry as a whole, and don't participate in trade associations. The article presumably could add that they largely don't participate in educational events to enhance their knowledge, they don't know what their accountabilities under the regulations are, and in many cases, the manufacturers they use aren't helping them – or the industry. Quite simply, the rite of passage, the belief that quality and transparency are essential core attributes in all of our products are frequently not built into these brands either.
Early last year, Trust Transparency developed a checklist (see below) of the 17 quality and regulatory control elements that any brand-holder, and especially online only brands should have in place, no matter the skill set and certifications of their chosen contract manufacturer. Recognizing that many of the brands didn't even know how to start this process we have initiated through our blog posts a series of follow on articles talking in depth about some of these critical operations and controls. Several of them are listed at the bottom of this post.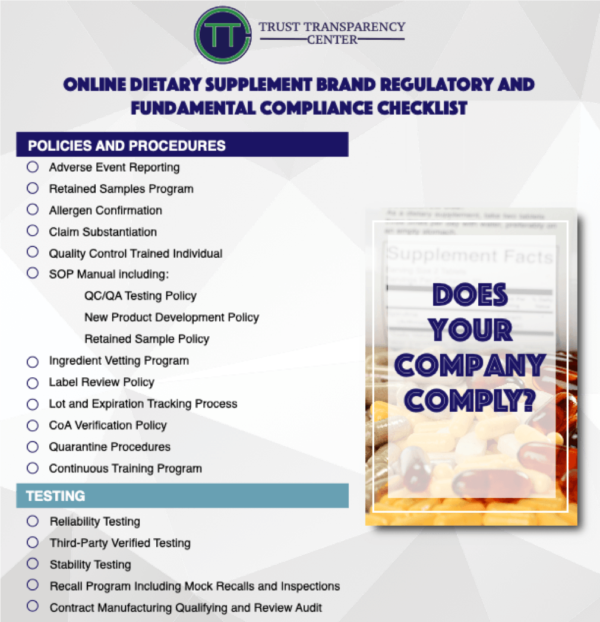 There is no question that the online-only channel of sale is compelling and lucrative. We at TTC would agree that by and large, many of these new companies are totally unconcerned about industry norms. Unfortunately, the norms are not the only things that several of these brands and sites appear to be unconcerned about.
Amazon got some of it right with their Elements line when they disclosed a lot of information about their manufacturing process and ingredient sources. Too bad Amazon didn't do the same with their Solimo brand – maybe that would have made it more of a groundswell. We at TTC would like to see companies disclose their carefully selected supply chain partners like contract manufacturers and to be acclaimed for it. Industry is taking some steps like the new CVS "Tested to be Trusted" initiative which requires third-party testing of all vitamins and supplements sold in its stores and online and the Supplement OWL.
For emerging online brands, use the checklist, take the high road, choose your partners by their willingness not to take shortcuts. Read the modules; TTC stands ready to assist. We all need to work together to protect our industry.
General reference articles:
Modules: